The Digitize 1K Churches & Ministries Project With Oluwamayowa
A project to help 1,000 churches and ministries understand how to use digital and tech tools to advance their mission.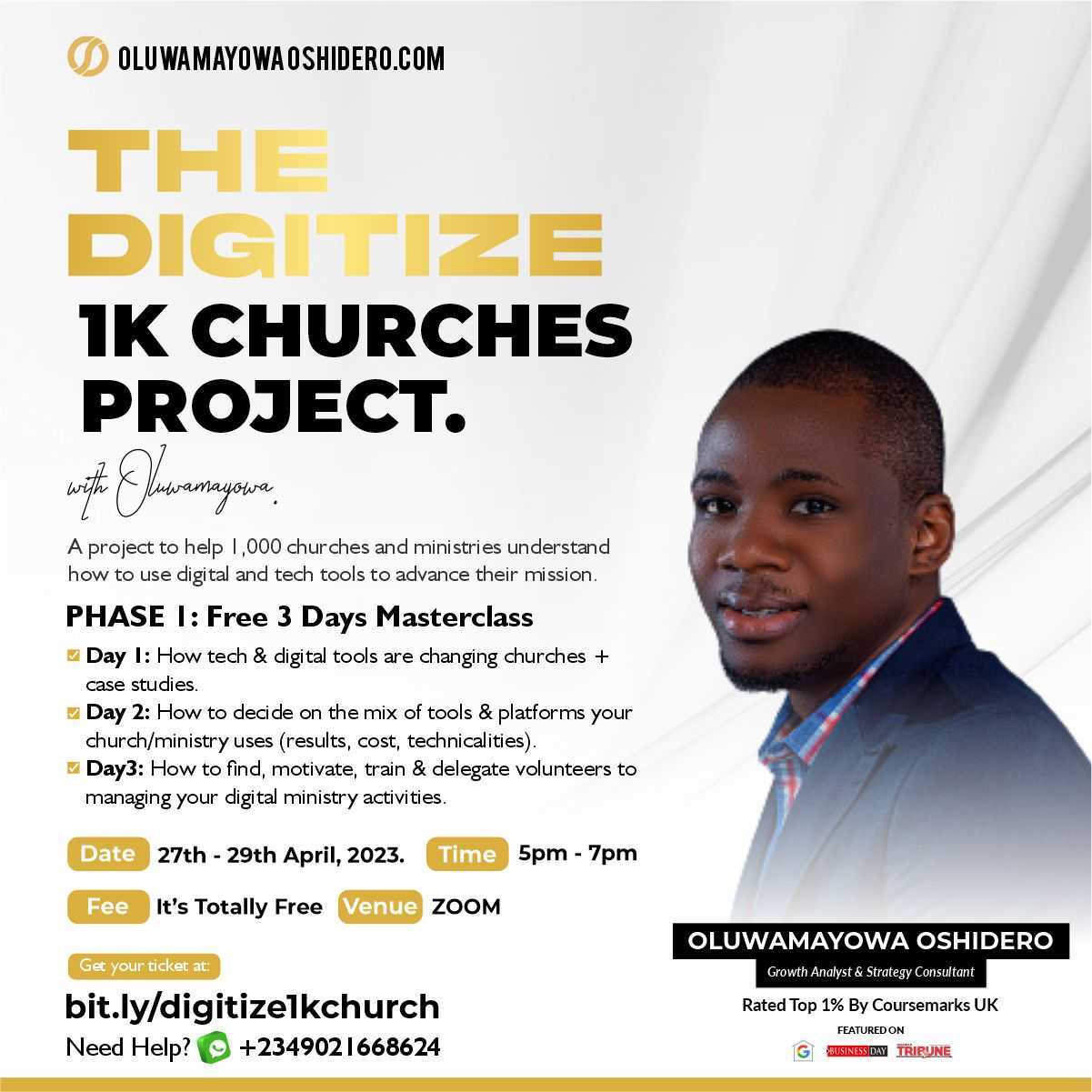 What Is This About?
God doesn't change, He is the same yesterday, today and forever more. But the way of communication, outreach, and behaviours of people are changing super fast.
Gone are the days when we will use town criers to reach people about an announcement, we migrated into the era of TVs and radio, then to handbills and banners, right now, it's the era of digital and technology. 
Not only has digital changed how church programs are communicated, but it has changed how people stay connected to the church, give to the church and also participate in ongoing activities of the church. 
The most interesting thing about the digital era is that new breakthrough technologies evolve every day!
The purpose of this project is to bring 1k churches up to speed on everything digital and technology, so that they can more effectively reach who God want them to reach.
Here Are The Phases Of This Project
Phase 1: A free 3 days masterclass to introduce Church Pastors, Communication Unit Heads & Members, Social Media Unit Members, etc into the capabilities of digital for churches and ministries (beyond all they might have seen).
Phase 2: Launching of a resource hub to help these leaders and unit members take advantage of this new approach.
Phase 3: A full-blown support for churches as they deploy this new tools and approach to reach out!
Phase 1 - Now Accepting Registration
The free 3-day intense training is to be the first offering to help participants understand where they are, what they are missing, and how to plan their transition into adopting digital channels and technology for effective ministries.
Introduction:
How Tech & Digital Tools Are Changing Churches 

Case Studies From Existing Churches and Ministries
What Works For Your Ministry
What Tech Tools & Platforms Are The Best For Churches & Ministry 

How To Decide On The Mix Of Tools & Platforms Your Church/Ministry Uses (Results, Cost, Technicalities)
Implementing It All
How To Find, Motivate, Train & Delegate Volunteers To Managing Your Digital Ministry Activities 

Pitfalls To Avoid 

Routines and Approaches That Help Result
Date
April 27th – April 29th, 2023
GET TO KNOW ME
Hi, I'm Oluwamayowa Oshidero
I'm a Strategy Consultant & Growth Analyst renowned for my unique & resourceful ability to strategically use global data-driven approaches and best practices to blend growth strategies with unique, innovative implementation approaches to deliver an outstanding result.
I have experience doing various contract work for brands like BBC Connected Studio UK, Emirates Holiday Nigeria, Sunway Estate, SmartFarm, Lifemate Furniture, VelocityNG, Tristate Hospital, University of Lagos, Seed of Life Schools, and many more.
I actively deliver training and masterclasses; I have done that for brands like Google Digital Skills Program, Facebook, She Leads Africa, Social Media Week Lagos, NYSC SAED, Wennovation Hub, United Nations SME Intervention program, EZGrowthSchool, and many more.
I am the CEO of Equilibrium Zone, a company building systems and infrastructure required to scale startups and SMEs that are creating solutions for an economically balanced world.
My works have been featured by Google Africa, Tribune Newspaper, BusinessDayNg, Mauvelli, and more.
In my free time, I create knowledge products on platforms like Udemy, DABGS.com, etc, all of which have gathered more than 3,000 students across those platforms. One of my signature courses was rated Top 1% amongst 94,000+ courses evaluated by CourseMarks, UK.
Outside Of My Professional Circle I Had Been At The Forefront Of Helping Churches & Ministries Leverage Digital For Effective Ministries