Startup Mentorship, Business Growth Strategy & Structure Design
Looking for a result backed business strategist to lead the way of your business' next level growth? Tap into Oluwamayowa's years of experience championing business strategy and guiding startups to growth.
Growing A Business Is No Easy Feat
You are constantly working to drive meaningful growth amidst competition, constantly evolving customer needs and behaviours, economic policy, global situations, technology evolution, human resource evolution, and many more.
Beyond this, as a startup founder, business owner or business leader, you are constantly faced with making strategic decisions: When to launch your product, when to kick off marketing, when to cut back on some things, when and how to raise funds, what operations structure to adopt, what your long term vision and goal should be and many more.
In all this, having a competent consultant like me work with you gives you both an objective view of your strategic approach also the implementation plan and structure are based on what really works.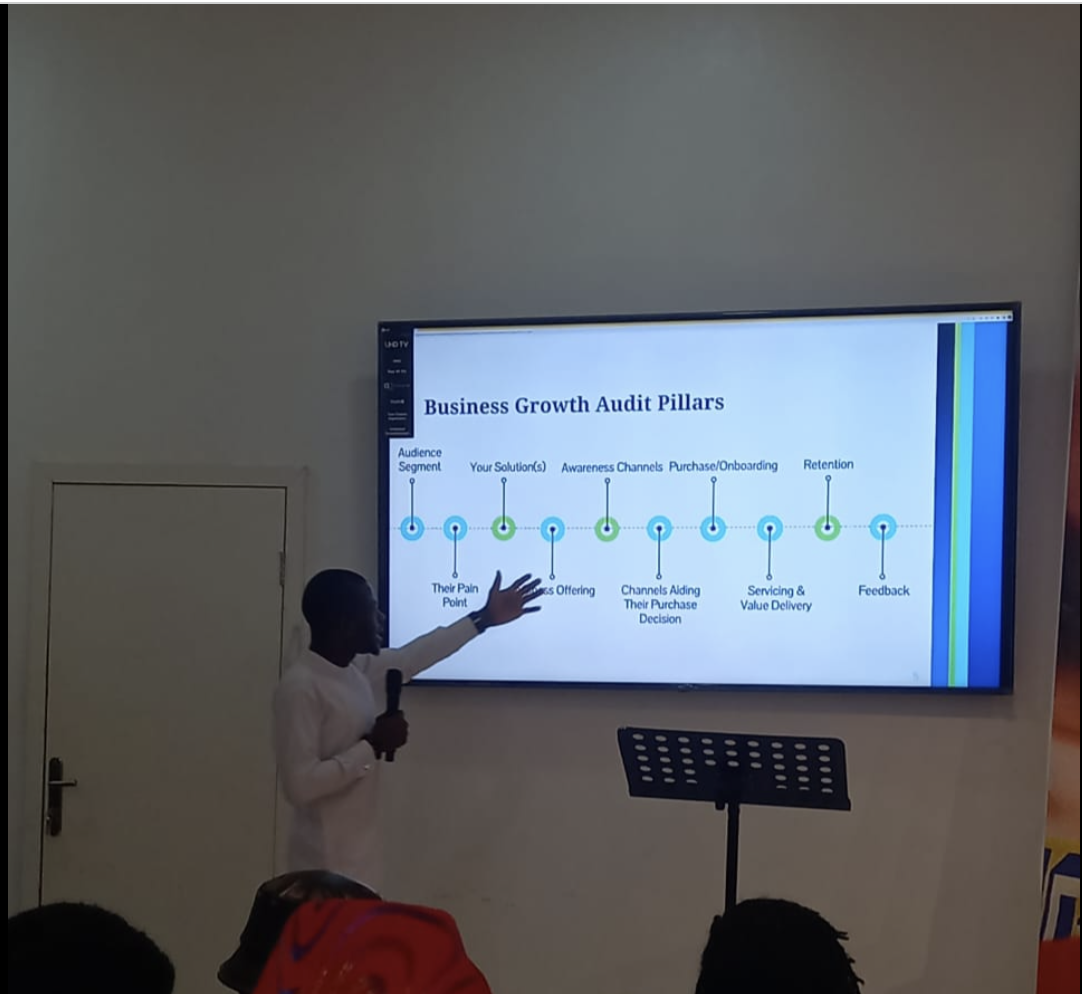 Business Strategy & Innovation
Business Strategy, Market Data Interpretation
Business Plan Design
Business Model Canvas Design
Product Strategy
Marketing & Customer Acquisition
Brand Strategy, Brand Positioning, Product Messaging
GTM Strategy & Product Launch Strategy
Marketing (Social Media, Paid Ads, Email, Funnels, SEO)
Sales Strategy & Sales Process Design
Business Performance & Data Driven Growth
Mapping Out KPIs and OKRs For Key Business Functions
Designing Structures & Tools To Track KPIs & OKRs
Performance Marketing & Growth Analysis
Operations Excellence Analysis
Business Operations Structuring
Business Operations Structure Design
SOP and Operations Checklist Design
ERP Integration Into Business Operations Workflow
Business Sustainability & Long Term Growth
Business Long-Term Transformation Strategy Design
Transformation Strategy Implementation Plan
Business Change Management
See Past Startup Mentorship & Speaking Event Delivered
Need Quick Help? Book A 1-1 Session
For 90 minutes, we can talk through your business, review the current stage and create a quick strategy for growth.
Book this for N50,000 / $100
Want A Long Term Engagement? Send Me A Brief
Fill the contact form below
Let me know about your intention.
We will confirm booking details
A member of my team will reach out to confirm the details.
Consulting Activity Commences
I proceed to the consulting activity, interacting with you and your business leadership team where necessary.
PLEASE FILL THE FORM BELOW
Need Me To Speak At Your Event or Facilitate A Training For Your Company?
With over 6,000+ audiences I have delivered training to, you can be sure you are in safe hands.